Japanese language course "Japanese Online Classes for Beginners" starting now!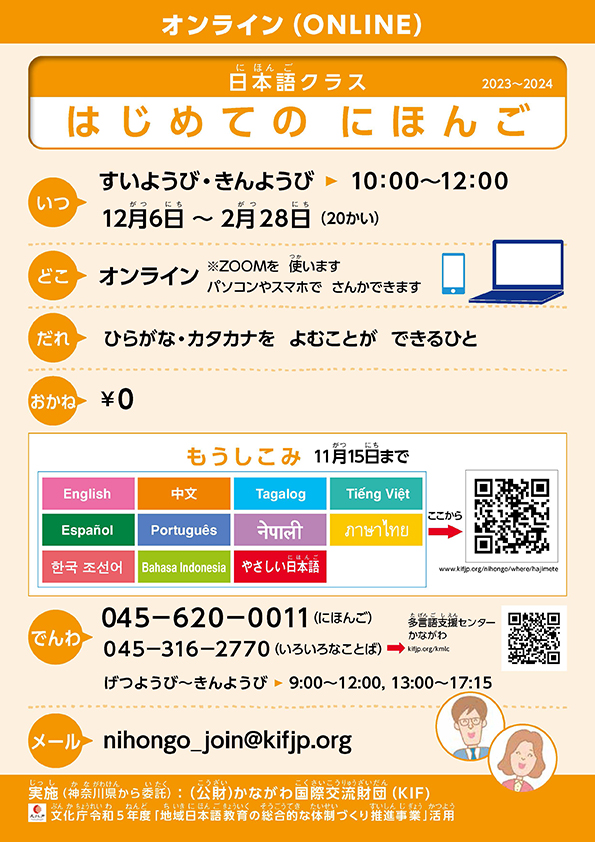 This course is aimed at people living in Kanagawa Prefecture who have limited knowledge of Japanese.
You will study the words and expressions that you can use immediately. Qualified instructors will teach you in an easy-to-understand manner.

■ Days and Times
Wednesday and Friday, 10:00 a.m. to 12:00 p.m.
■ participants
Classes are designed for those who can read hiragana and katakana.
December 6, 2023 – February 28,2024
*No classes on December 27,29 and January 3,5.
■ Location
Online
*Class will be held online using ZOOM.
You can participate on your computer or smartphone.
■ Tuition fee
Free of charge (¥0)
■ Textbooks
Irodori: Japanese for Life in Japan, Introductory Level & Elementary Level
https://www.irodori.jpf.go.jp/
■ Number of students in a class
20 students (1 class)
Important Notes. Please read carefully!

1. If the number of applications exceeds the number of available openings, we will give priority to applicants from Kanagawa Prefecture and, if still necessary, a lottery will be held.
2. Please try to attend all classes as much as possible.
Contact
■TEL
For inquiries in English : 045-316-2770 (Multilingual Support Center)
Monday-Friday 9:00-12:00, 13:00-17:15 (closed on Saturdays, Sundays and public holidays)
Support in various languages is available on different days of the week.
For more information, go to → https://www.kifjp.org/kmlc

For inquiries in Japanese: 045-620-0011 (KIF)

■E-MAIL
nihongo_join@kifjp.org

■Held on behalf of Kanagawa prefecture by
Kanagawa International Foundation (KIF)