Japanese classes available: "Japanese for Beginners" (Ebina City, Zama City and Ayase City)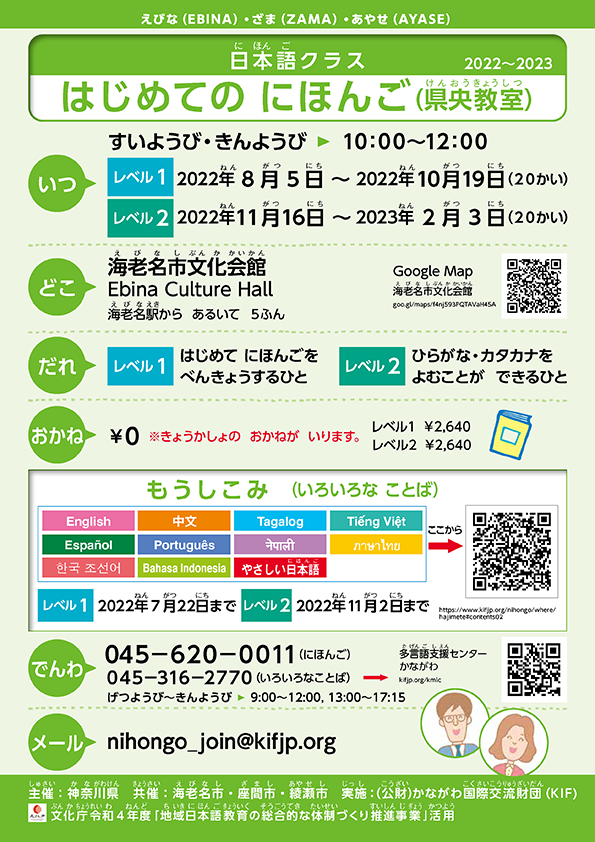 Classes are designed for people who want to study Japanese for the first time or who have very limited knowledge of the Japanese language. You will learn practical Japanese and basic grammar. Qualified instructors will teach you in an easy-to-understand manner.

■Days and times
Wednesdays and Fridays, 10:00 a.m. – 12:00 p.m.
■Level 1:
Classes for first time students of Japanese
August 5 – October 19 *No classes on August 12, September 23
■Level 2
Classes for people who know how to read hiragana and katakana, and who want to study basic grammar and conversation
November 16 – February 3 *No classes on November 23, December 28,30,January 4
■Location
Ebina Cultural Hall
(Address: 6-1, Megumi-cho, Ebina City, Kanagawa Prefecture)
5 minutes walk from Ebina Station.
※Parking is available for a fee.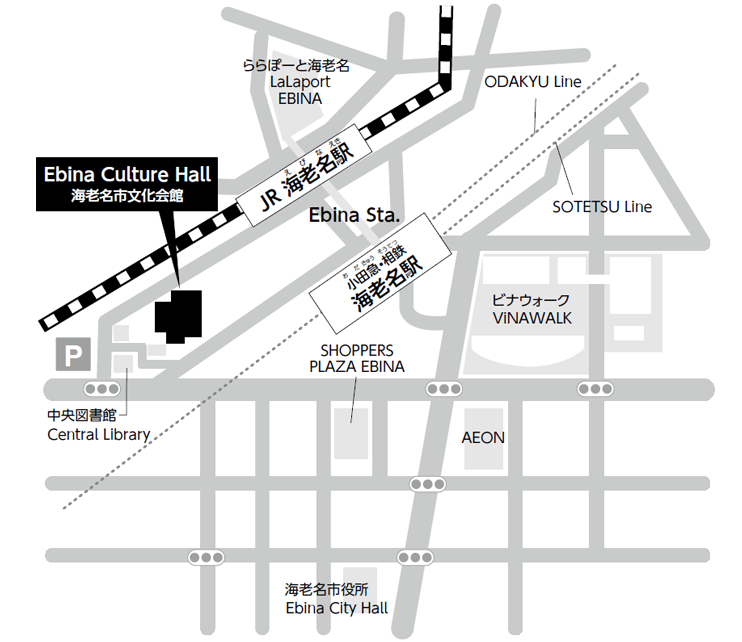 ■Tuition fee
Free of charge
★You will have to purchase textbooks for 2,640 yen
■Textbooks
Level 1: "Ippo Nihongo Sanpo – Beginners 1" 2,640 yen
Level 2: "Ippo Nihongo Sanpo – Beginners 2" 2,640 yen
■Class size
20 students per class
Important note! Please read carefully!

1. Please note that class schedules may change due to the effects of the Covid-19 pandemic.
2. Textbooks can be purchased after the start of the course. Please do not buy them before the course starts.
3. Please try to attend all classes as much as possible as the classes are designed to teach you Japanese from the basics in 20 consecutive lessons.
4. If there are too many applicants, a lottery will be held.
5. There will be days when classes will be held online.
Contact
■TEL
For inquiries in English : 045-316-2770 (Multilingual Support Center)
Monday-Friday 9:00-12:00, 13:00-17:15 (closed on Saturdays, Sundays and public holidays)
Support in various languages is available on different days of the week.
For more information, go to → https://www.kifjp.org/kmlc

For inquiries in Japanese: 045-620-0011 (KIF)

■E-MAIL
nihongo_join@kifjp.org

■Held on behalf of Kanagawa prefecture by
Kanagawa International Foundation (KIF)