We are offering classes for "Japanese for Beginners"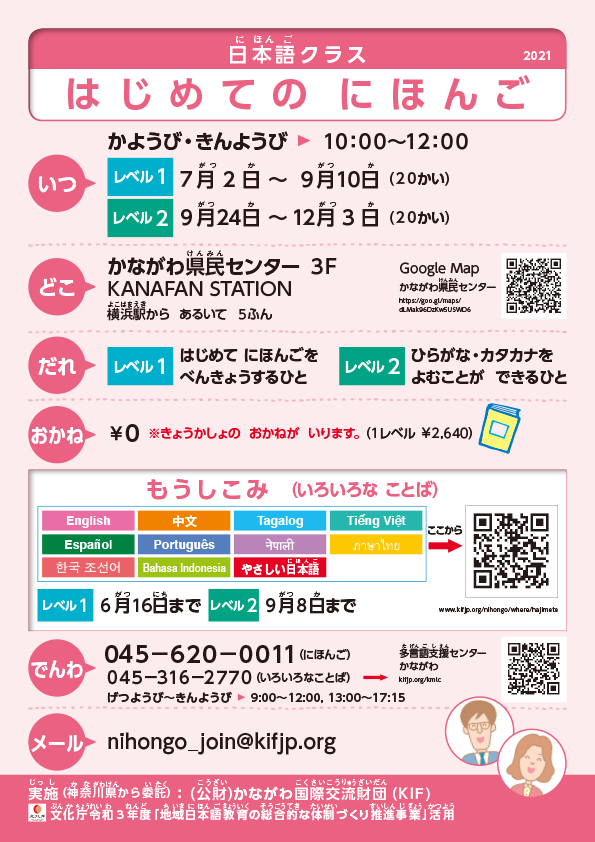 ■Days and times
Tuesday and Friday, 10:00 a.m. – 12:00 p.m.
■Level 1
Classes for first time students of Japanese
Jul. 2 – Sep. 10
※No class on July. 23
■Level 2
Classes for students who can read Hiragana and Katakana and want to study basic grammar.
Sep. 24 – Dec. 3
※No class on Nov. 23
■Venue
Kanagawa Kenmin Center 3F
KANAFAN STATION (Kanagawa International Fan Club)
5 mins walk from Yokohama station/West or North-West exit
Address: Yokohama-shi, Kanagawa-ku, Tsuruya-cho 2-24-2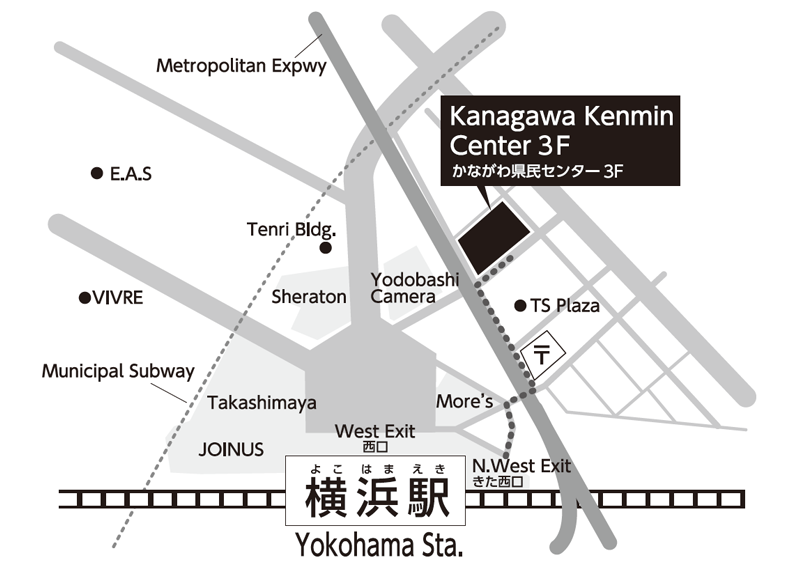 ■Tuition
Free of charge
★Textbook charge of 2,640 yen each for Level 1 and Level 2
■Textbook
Level 1: "Ippo Nihongo Sanpo – Beginners 1" 2,640 yen
Level 2: "Ippo Nihongo Sanpo – Beginners 2" 2,640 yen
■Class size
20 students per class

Interpreters will be available on the first day and in the middle of the course.
Important note! Please read carefully!

1 The schedule may be changed depending on the status of Covid-19 infections.
2 Textbooks can be purchased after the start of the course. Please do not buy them before the course starts.
3 Please try to attend all classes as much as possible.
20 consecutive lessons are planned to help you learn basic conversation.
4 If there are too many applicants, a lottery will be held.
The course will be held with careful attention to the Covid-19 pandemic.
Contact
■TEL
For inquiries in English : 045-316-2770 (Multilingual Support Center)
Monday-Friday 9:00-12:00, 13:00-17:15 (closed on Saturdays, Sundays and public holidays)
Support in various languages is available on different days of the week.
For more information, go to → https://www.kifjp.org/kmlc

For inquiries in Japanese: 045-620-0011 (KIF)

■E-MAIL
nihongo_join@kifjp.org

■Held on behalf of Kanagawa prefecture by
Kanagawa International Foundation (KIF)